We provide the best quality roof cleaning services on the Gulf Coast!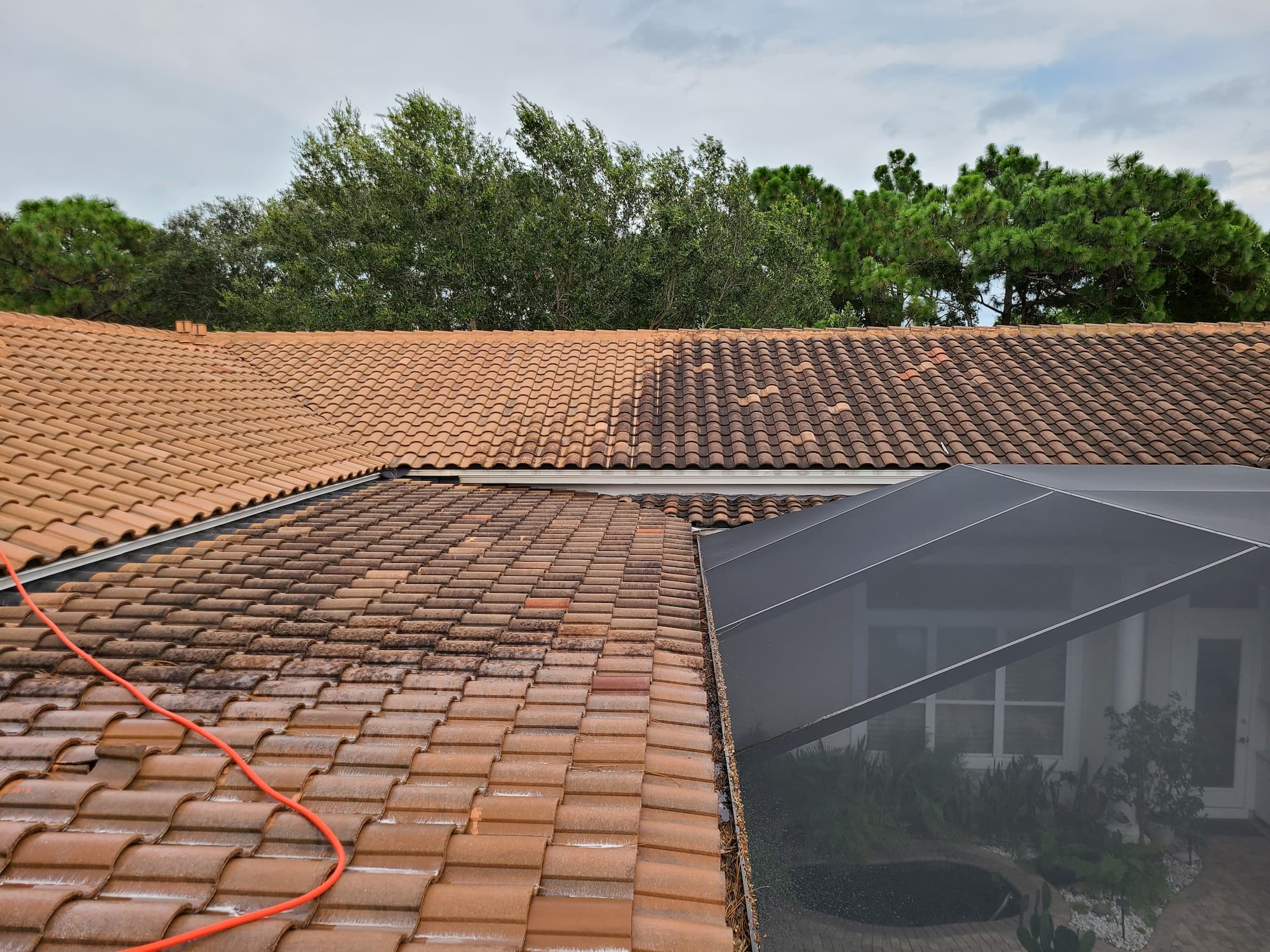 Impeccable Pressure Washing provides only the best roof cleaning services to Fort Walton Beach and surrounding areas. We understand the importance of a well-maintained roof as a necessity of a safe and sturdy home. Our professional roof cleaning services will have your roof looking spectacular while ensuring that it will hold up for years to come.
Latest Roof Cleaning Projects
Roof Washing in Santa Rosa Beach, FL

This customers roof in Santa Rosa Beach, FL hadn't been cleaned in 10 years so it was completely covered with a thick layer of mold, mildew and algea. We started off by soaking all of the plants with water to keep them hydrated so our roof […]

Roof Wash, House Wash, and Paver Driveway Sealing in Destin, FL

This house in Destin, FL is only a few years old but the customer wanted to ensure his roof, house and driveway stay in like new condition. We started with our asphalt shingle roof wash mixture using a low pressure soft wash system to apply it. […]
Roof Cleaning Will Help Maintain the Longevity Of Your Gulf Coast Roof
Roof and gutter cleaning are the keys to making your roofing system last as long as possible. Without cleaning, your roof will accumulate decomposing microorganisms that will eat through shingles and the wood beneath. This dramatically speeds up your need for an expensive roof replacement. By hiring the pressure washing professionals at Impeccable Pressure Washing, you're committing to preserving the condition and quality of your roof and preventing premature replacement.
Additionally, regular cleaning can help you spot any damage or small repairs needed before they become more serious. Overlooking the need for these minor repairs only causes them to get worse over time, which eventually leads to you spending lots more money than would've been necessary. In this way, proactive efforts like regular roof cleaning end up saving you much more money and stress than they cost you.
Finally, roof cleaning will get rid of the debris left by harsh weather that can cause your roof and gutters to clog and become saturated with water. Leaves, sticks, and dirt buildup after a storm may cause water to become trapped in your gutters and on your roof. This leads to water penetrating beneath the roof and can cause wood rot.
For these reasons, we recommend that our dependable roof cleaning services be a regular part of your home care. So many preventative measures are included in simple roof cleaning practices and will help your roof survive and thrive season after season.
Why Soft Washing Is Best For Your Roof
Our pressure washing professionals know that high-pressure is the last thing your roof needs. High-pressure washing will damage the protective granules on asphalt shingles, puncture rubber or plastic roofs, rust metal ones, and deteriorate rock and tile roofs. That's why the experts at Impeccable Pressure Washing employ the soft washing method to get your roof back into top condition. Soft washing uses low water pressure and specialized detergents, neither of which will cause damage to any type of roof.
Help your roof age gracefully with Impeccable Pressure Washing' roof cleaning services in Fort Walton Beach! Call us today!
Gallery