Make All Your Gulf Coast Windows Sparkle With Professional Window Cleaning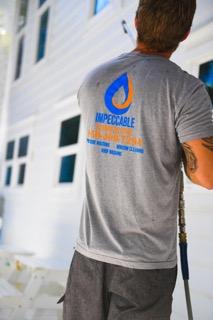 Fort Walton Beach can rely on Impeccable Pressure Washing to deliver flawless, glistening windows with our professional window cleaning services. We know which methods will yield the best results without damaging your delicate glass.
Recent Window Cleaning Projects
House Washing and Window Cleaning in Niceville, FL

This house wash in Niceville, FL was long overdue, there was think green and black build up all over the house and the windows were caked with green mildew. We coated this house multiple times with our house wash mix followed by a low pressure rinse and […]
Why Your Windows Need Professional Cleaning
We know that window cleaning can improve the look of your windows, but what are some other benefits of having your windows serviced professionally? Read on to find out.
Clean Windows Increase Curb Appeal
When selling your home, your exteriors, and specifically your windows, are very telling as to how well your home has been maintained. If prospective buyers arrive to view your home and are met with grimy, smudged windows, then they can only assume that the rest of the house is not worth seeing. If you want to attract serious buyers and sell your house more quickly for the maximum value, then you need to let Impeccable Pressure Washing take care of your windows today! To really take your curb appeal to the next level, see our full house washing services.
Clean Windows Last Longer
Since glass is a porous material, your windows will inevitably hoard buildups of dirt, grime, and pollen on their surface. Over time, this unsightly accumulation will start to cause small cracks and scratches. Eventually, these minor issues can worsen and lead to a total window replacement. If you want to extend the lifespan of your windows for as long as possible, then it's critical to implement professional window cleaning services as part of your regular home maintenance.
Increased Energy Efficiency
Dirty windows can force you to spend more on heating your home during the winter. Dirt and grime caked onto your windows blocks sunlight from entering your home. If you're missing out on this free form of heat, then you'll have to rely more heavily on your air conditioning unit and spend more money in the process. Cut those high electricity costs and help your home be more energy efficient with Impeccable Pressure Washing' window cleaning services!
Why Hire Us?
Window cleaning is a delicate job that should be left to the professionals at Impeccable Pressure Washing. We know that simply using traditional high-pressure techniques can be too harsh and can cause your windows to shatter. It's our goal to give your windows an effective, long-lasting clean all while prioritizing the safety of everyone in your home or business. We also know which biodegradable detergents to use that will deliver a flawless clean without damaging the environment. Our dependable pressure washing is just what your windows need to sparkle and shine!
Fort Walton Beach has a trusted provider of professional window cleaning services in Impeccable Pressure Washing. We can't wait to hear from you!