Trust the Exterior of Your Gulf Coast Home To An Expert Pressure Washing Company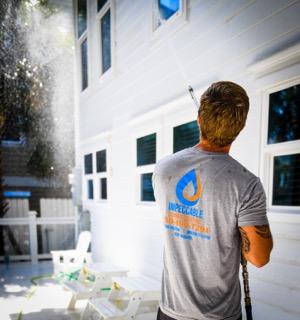 Impeccable Pressure Washing is a Gulf Coast pressure washing company dedicated to improving the homes and livelihoods of the residents and business owners of Fort Walton Beach and surrounding cities. We take pride in keeping our clients' homes safe, healthy, and aesthetically pleasing for all to enjoy!
Latest Projects
Commercial Pressure Washing in Panama City Beach, FL

This was a 60ft tall commercial building we soft washed using a 60ft lift to ensure each area was sufficiently and safely cleaned. Our operators are skilled at using tall lifts in a safe and efficient manner. The build up on this building was so thick […]

Parking Lot Striping and Pressure Washing in Crestview, FL

We started this job in Crestview, FL by pressure washing all of the sidewalks around the building and the concrete areas in the parking lot. The parking lines of this church were very faded and hard to see so we at impeccable Pressure Washing used our […]
What Is Pressure Washing?
Pressure washing is the use of high or low-pressure water spray from a mechanical water pump to remove dirt, mud, algae, loose paint, moss, and other grime from a structure's exterior surface. In some cases, a specialized cleaning agent is added to the water spray to further sanitize certain areas. This cleaning method is ideal for surfaces like concrete, driveways, pavers, decks, and brick, among others. Our pressure washing pros will deliver the best clean possible on all these surfaces
How Can Pressure Washing Improve My Home?
We recommend that you have your home or place of business pressure washed at least once a year. Annual pressure washing keeps your home clean, beautiful, and structurally sound so that you can maximize the longevity of your exterior features. It also:
Rids your home or commercial space of harmful toxins. The exteriors of your structure often become a breeding ground for things like mold, mildew, and algae. If neglected, these substances will eventually penetrate the barrier to the interior of your home or business, posing a health risk for everyone inside. Regular pressure washing, roof cleaning, and gutter cleaning are necessary to eliminate these risks to everyone.
Increases your curb appeal. When selling your home, it's crucial to get your exteriors looking their best to attract possible buyers. The outside of your home will be the first thing that they see and is likely what will determine if they'll want to see the rest. Taking advantage of our pressure washing company is a way to ensure that your home will dazzle anyone looking to buy and will help you sell faster and for a better price.
Can you help you avoid costly repairs. It's inevitable for dirt and grime to build up on your exteriors throughout the year. If left to accumulate, these buildups can eventually lead to expensive repairs or replacements. Mold, mildew, and other biological elements will corrode surfaces like roofing and siding if the home isn't regularly pressure washed. This leaves you with deteriorated exteriors and high repair bills. Pressure washing your home annually can help you avoid these headaches and will keep your home or business beautiful and sturdy for years to come!
Why You Should Hire Us?
Pressure washing takes more knowledge and skill than you may think. In order to get the most thorough clean without damaging your interiors, it's highly recommended that a professional pressure washing company handle your home's pressure washing needs. The experts at Impeccable Pressure Washing know what type of pressure to use on different surfaces, and they know what cleaning detergents will work best on your home's specific problems. If you make pressure washing a DIY task, then you risk possibly damaging your exteriors. This leads to either needing repairs or leaving an eyesore on your home, both of which can be easily avoided by hiring us! You also may not use enough pressure, which will only soak everything but not actually clean it. At Impeccable Pressure Washing, we have the knowledge and experience to provide an exceptional cleaning service to your home, business, or storefront without the possibility of these mistakes. Save yourself the time, risks, and hassle of DIY pressure washing, and let us handle the dirty work for you.
If your Fort Walton Beach home, business, retail storefront, or construction cleanup site requires the services of an exceptional pressure washing company, then look no further than Impeccable Pressure Washing. Call us today!
Gallery
CONTACT US
If you are looking for a professional pressure washing company in the Gulf Coast, please call 850-499-7294, or complete our online request form.