Keep the Exterior Of Your Gulf Coast Home Pristine With Professional House Washing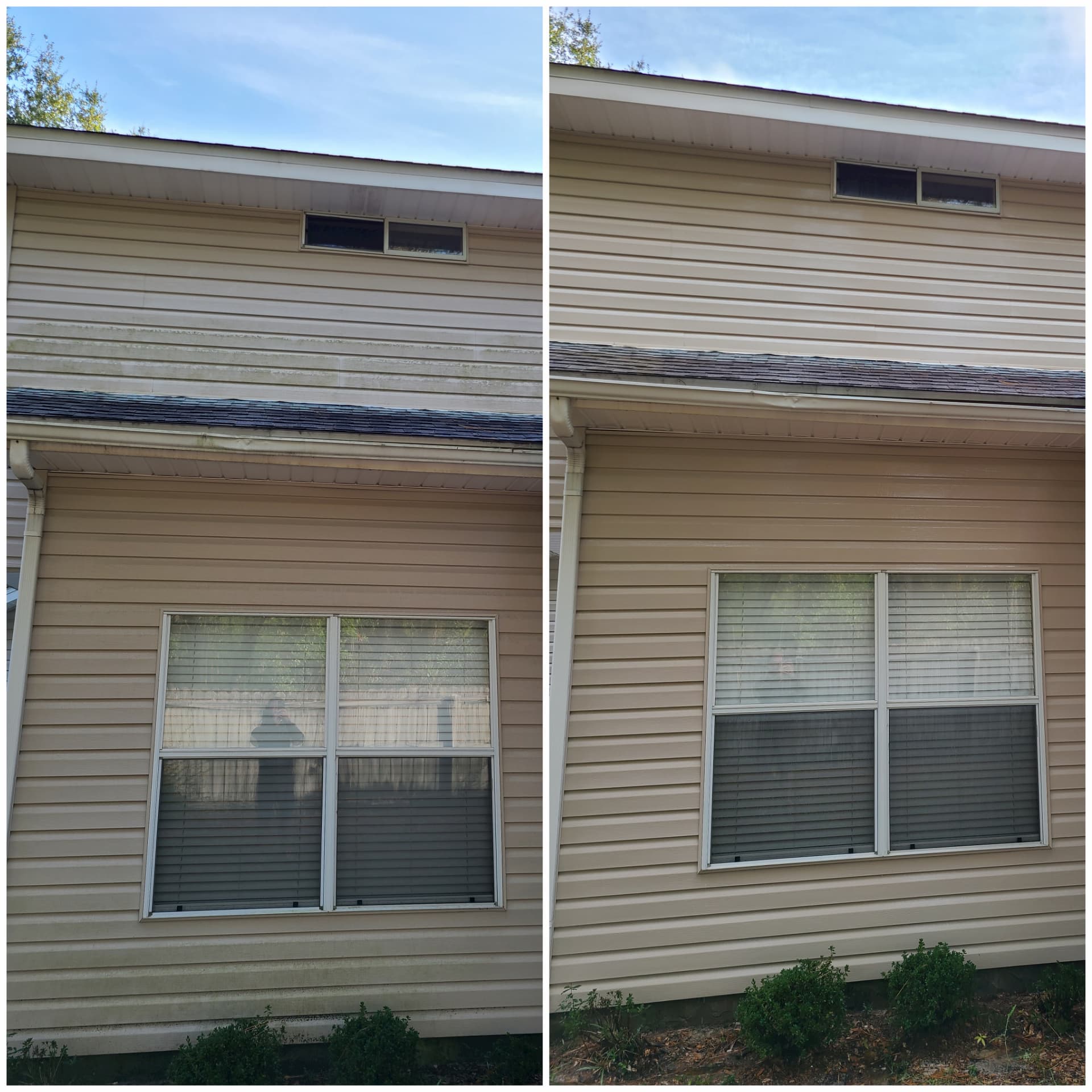 Impeccable Pressure Washing provides premier quality house washing to the residents and business owners of Fort Walton Beach and surrounding areas. It's common for any home or business exterior to become dulled by the appearance of dirt stains, algae streaks, and debris from harsh weather. At Impeccable Pressure Washing, we guarantee that our pressure washing experts will cleanse your home of this unattractive discoloration so that you can enjoy the view again. Not only does professional house washing make your home look better, but it also has several other important benefits for your living space or place of business. Read on to see all the ways our house washing services can help you!
Latest House Washing Projects
Rental house soft washing Santa Rosa Beach 30A, FL

This is another rental house washing we do in the 30A area of Santa Rosa Beach Destin every year. As you can see from the photos, in just one year the bugs, mold, mildew and algea have built up and are in desperate need of a […]

4 story house wash Santa Rosa Beach 30A FL

This is a house Impeccable Pressure Washing cleans on a 6 month basis for a property management company. Because we use top of the line pressure washing equipment, we are able to soft wash this 4 story rental property without the use of ladders. This home […]

Apartment complex commercial pressure washing Fort Walton Beach, FL

This is a 76 unit apartment complex spread across 9 buildings that we pressure washed in Fort Walton Beach. We used our house soft washing mixture to pressure wash the exterior of the commercial buildings to remove the mold, mildew and algea buildup. The issue with […]
The Benefits of House Washing
House washing goes a long way to improve the aesthetic of your home or business. Routine house washing also:
Removes toxic allergens. It's inevitable for mold and mildew to form on your roof and siding as time passes. Rain and snow provide the moisture necessary for it to grow and overrun your exteriors if you don't implement professional cleaning services. If you neglect to clean and leave mold and mildew to worsen, then you're also risking the safety of your family and guests and the structural integrity of your home. These substances can eat into your siding and roofing and eventually may reach your interior space. Once there, they can cause health problems for anyone inside. Our effective house washing methods sanitize your exteriors and kill these allergens at their core, so they'll stay away longer, and your home will be safe and sound.
Prevents expensive repairs. House washing is a way to maintain your exteriors so that you won't have to face the stressful and costly prospect of replacements and repairs. The buildup of dirt, grime, and toxins will eventually penetrate your roof and siding. At this point, it's too late for cleaning and repairs are the only solution. It's much more cost-efficient to maintain your home through practices like house washing than it is to replace features like your roof and siding.
Increases your curb appeal. If you're looking to put your home on the market, then house washing should top your list of priorities for getting it ready for viewings. The outside of your home is its first impression, and first impressions are critical to home buyers. If a prospective buyer pulls into your driveway and is greeted by unsightly black and green streaks, then chances are that that image will stick in their mind more than any positives will. Don't miss the mark when prepping your home to sell. Take advantage of our professional house washing services today and get the maximum value for your home later!
The Soft Wash Method
At Impeccable Pressure Washing, our top priority is to protect your exteriors from damage while providing a thorough clean. To ensure that no undue wear and tear occurs to any part of your home, we opt to use soft washing rather than traditional pressure washing on features like vinyl, stucco, asphalt shingles, and other more delicate surfaces. Soft washing is a low-pressure cleaning technique that uses specialized detergents to kill mold and mildew and gently remove dirt and other visible stains and is most recommended for siding, roof, and gutter cleaning. After one of our professional house washing services, the look of your home will be vastly improved and will have no damage of any kind.
Get and keep your Fort Walton Beach home in perfect condition with our professional house washing services!
Gallery